It's crucial to know exactly where your money's going to fully understand and manage your mobility costs. Statistics from 2015 research by Worldwide ERC® show the highest expenses are:
Real Estate Issues Can Bust the Bank
The largest employee relocation expense falls into the real estate category – typical employee relocation costs for renters are about $23,000, while they rise to an average of $90,000 for homeowners, and potentially much more than that if the employee is a top executive.
Very often in the relocation industry, you will come across talent who had the desire to move, but couldn't sell their homes. Or they were offered lump sum packages that weren't enough to cover closing costs. With the recent uptick in the housing market, it's possible that selling will be easier. However, higher real estate prices also mean that employees need a larger budget if they want to purchase a home in the new location.
Reduce Costs without Delaying Home Sales
So how can you recruit and retain top talent who may feel tied to their region because of a house they can't sell without taking a loss?
Compromise is an important word in the real estate industry right now. Sellers may have to compromise on their asking price, offer seller concessions or take other steps to ensure the fast sale of their home. Buyers must navigate a tricky mortgage approval process that could involve extra paperwork or delays that didn't exist a few years ago.
However, no one's compromising more than the companies attempting to relocate employees quickly and efficiently. After all, a quick home sale creates less stress for the employee, thereby improving the chances of employee retention following a move and contributing to a faster return to productivity.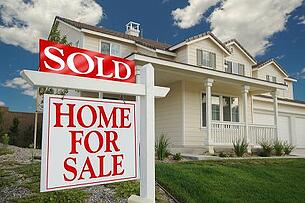 That's why home assistance programs are frequently designed to generate fast home sales without much consideration of cost – the reasoning being that by providing solid support, you can make the home selling and buying process relatively quick and easy for the employee. Yet it's important to bear in mind that each employee's situation is different, and some employees might require more assistance than others.
Depending on the employee's role in the company, as well as their personal situation, a good home assistance program could include anything from lease breaking or loss-on-sale assistance to bonuses for quick sales and guided home-buying tours at the destination. While the associated costs could add up, they're nothing compared to the potential damages if you lose talent.
Whether you manage your own program or work with a relocation management company, you'll need to find a balance between successful relocations and managing your budget to ensure you have a winning mobility program.
Tax Gross-Up Adds Up
Many employees are surprised to hear that expenses that aren't deductible or excludable as relocation costs are taxable. To reduce the burden to the employee, your company can assume a certain portion of this tax liability. This is called grossing up, and it's clearly a tool that can be used to persuade employees who may be reluctant to move.
However, it's also important to understand that the costs of grossing up can quickly add up. The larger the costs of the relocation, the larger the gross up, so only include tax gross up as a standard feature of your package if you've accurately calculated the maximum costs involved.

Disorganized Moving of Household Goods Drives Up Costs
Ensuring that an employee's possessions arrive at the destination intact and on time is critical to a successful relocation experience. However, when you understand all the variables that go into this endeavor, it's easier said than done. Packing, storage, hauling and unpacking all involve labor and time. For a global move, there are more things to consider, such as customs and licensing.
The more aspects of household goods moving managed by one moving or removals company, the greater the chances of a successful relocation. While some employers try to cut costs by booking separate companies for the individual components of the move, this can easily lead to an uncoordinated, disorganized process that is also highly stressful for the employee.
An advantage to working with a relocation management company is that it can leverage the total volume of its clients with a network of suppliers for each client, which yields higher levels of service and competitive pricing.
Temporary Living Impacts Costs
In the event an employee needs temporary living before finding a long-term residence, many companies offer to either assist with or cover the costs of temporary living. These costs can involve anything from renting a home and furniture to covering the costs of Internet and home security.
Unfortunately, 34 percent of companies report that it's difficult to find houses to rent. That means that depending on the location, temporary living expenses can have a significant impact on your costs.
You can contain these expenses by working with a relocation management company or a broker to interface with local leasing offices to find suitable properties in the desired price range.
How Much Is Too Much for Miscellaneous Costs?
Many mobility packages contain a standard sum for miscellaneous costs, which can be used at the employee's discretion. While that's certainly the simplest way to approach miscellaneous costs, taking a case-by-case approach might be a more cost-efficient option because the costs will vary depending on factors such as:
The distance of the move

How many family members are moving
The method of transport to the destination
Costs of living at the origin and destination
For example, an employee moving from New York to London with a spouse and two children will have higher miscellaneous expenses than a single employee moving from Omaha to Detroit.
Family Assistance varies

Providing quality family assistance is essential to keeping your employee engaged. Moving is an emotional experience for both the employee and the family. It can have a negative impact on a spouse's career, affect children's academic performance and make the entire family feel isolated and unhappy.
Employees will have their own concerns that go beyond the broad strokes of finding a job for their spouse or determining whether the schools in the area are good.
Some employees have family members with special needs who need assistance both during the move and at the destination. Some may be used to an active social life, so they need assistance finding organizations or clubs to join. Yet others may be worried about their children adjusting to their new environment.
Because each employee's needs are unique in this area, setting a flexible budget for family assistance could prove to be a better financial option than simply allocating the same amount to all employees. You may find that working with a relocation management company to provide family assistance on a case-by-case basis is a smart financial option.